There's no doubt that the future of how we buy for our homes, kitchens specifically, will look different when the world opens back up, post COVID-19 lock down. So far, there have been 3 major kitchen-related changes that we have had to adopt on a moment's notice.
First, we have been forced to alter the way we shop, store, and prepare food. Second, we have more time at home to get organized, work on our "to-do lists" projects, and sanitize our homes. Finally, we have had to change the way we interact and socialize with family, friends, and colleagues.
Here are some of the long-term ways COVID-19 will change kitchen designs in 2020.
Purchasing Home Appliances, Furniture, Cabinets, and Fixtures Online
If you weren't already an avid online shopper, the stay at home order probably changed that. Online retail sales is the wave of the future. For over a decade we have grown more comfortable ordering everything online. Now many consumers don't have a choice. The COVID-19 pandemic has emphasized the importance of online retail sales.
When nearly all stores had to close their doors, one of our MicroFridge and Danby retailers, AJ Madison was able to handle the new economic change. AJ Madison is still completing deliveries everywhere in the continental US. Customers can browse the industry's largest selection of appliances with over 140 brands to choose from. Simply order online, or set up an appointment with an appliance professional by phone, Zoom, Google Hangouts, or Facetime.
More Refrigerator and Freezer Capacity
Weekly grocery trips have turned into bi-weekly or longer and even delivery windows are multiple days out. Limited trips means having to stock up, and you're going to need extra space to keep all that extra food. Refrigerators are essential for short term fresh food storage and leftovers. Freezers are important for longer term preservation and frozen goods.
Moving forward, we're going to pay more attention to refrigerator and freezer capacity. Here are a few pro tips for getting more refrigerator and freezer capacity in your kitchen:
Full Depth Refrigerators
Full depth refrigerators are freestanding refrigerators with a case depth of 28 to 30 inches. They come in all the popular configurations like top freezer, bottom freezer, side-by-side, and French door styles. Full depth refrigerators can give you anywhere from 18 to 30 cubic feet of storage space. Full depth refrigerators give you more cubic capacity than counter depth and built-in styles, and they're less expensive. Danby offers a variety of different size refrigerators for all your home needs. Model shown is 18 CU. FT. Danby Frost-Free Refrigerator with Top-Mount Freezer
All-Refrigerator and All-Freezer (Columns)
Columns are a more upscale way to add extra storage space to your kitchen. If you're going for a luxurious look, consider these all-refrigerator and all-freezer towers that can be mixed and matched to give you an optimal amount of storage space. Install them side-by-side or separated, whichever works best with your design. Models Danby 8.5 CU. FT. Upright Freezer and Danby Designer 11 CU. FT. Apartment Sized Refrigerator shown side by side
Under Counter Refrigeration (beverage centers, refrigerator drawers, freezers)
Under counter refrigerators are tremendously popular already. Under counter refrigerators are a stylish addition to any kitchen, pantry, living area, outdoor entertainment space, master suite, or home office. If your main refrigerator isn't enough, you can get some extra capacity under the counter. Model shown is Silhouette 24″ French Door Beverage Center
Extra Freezer Space (chest freezers, upright freezers)
Our CEO, Jim Estill, gave his thoughts to the Washington Post on how COVID-19 has permanently changed the demand and need for freezers. Getting an extra freezer, if you can find one, can come in handy. Whether you want to stockpile extra frozen dinners, chicken, bread, ice cream, or leftovers, you can keep extra meals handy. An upright freezer or small chest freezer can tuck into a large pantry. If you need more storage space, get a bigger freezer for your garage or basement. Model shown is Danby 3.8 CU. FT. Chest Freezer
Many households have an extra refrigerator to accommodate extra food storage. Whether it's your old refrigerator, or an inexpensive scratch and dent piece, adding an extra refrigerator to your garage, basement, or bonus room can come in handy. See if you have a Danby Outlet Store near you for some great deals on scratched or refurbished appliances.
3. Easy-to-Clean Appliances, Kitchen Cabinets, Countertops, and Fixtures
Over the last few weeks, we have been more mindful about cleaning our homes and the items we bring into them. We are taking extra time to disinfect heavily trafficked areas such as our kitchen, bathroom, car, and work spaces. We've been reminded that germs, bacteria, and viruses linger on door knobs, keyboards, refrigerator handles, buttons, and knobs. The majority of our Danby and MicroFridge appliances have flushed handles which make for easier cleaning.
New kitchens will be designed with easy cleaning in mind. Low maintenance cabinet finishes, faucets, tile, and fixtures will be a top priority. For appliances, that means coated finishes like smudge-resistant stainless steel will become more popular. Consumers will look for countertops that are non-porous, scratch resistant, stain resistant and even antimicrobial. Models shown are part of our Full Sized product range
4. Focus on Outdoor Living, Self-Sufficient Gardening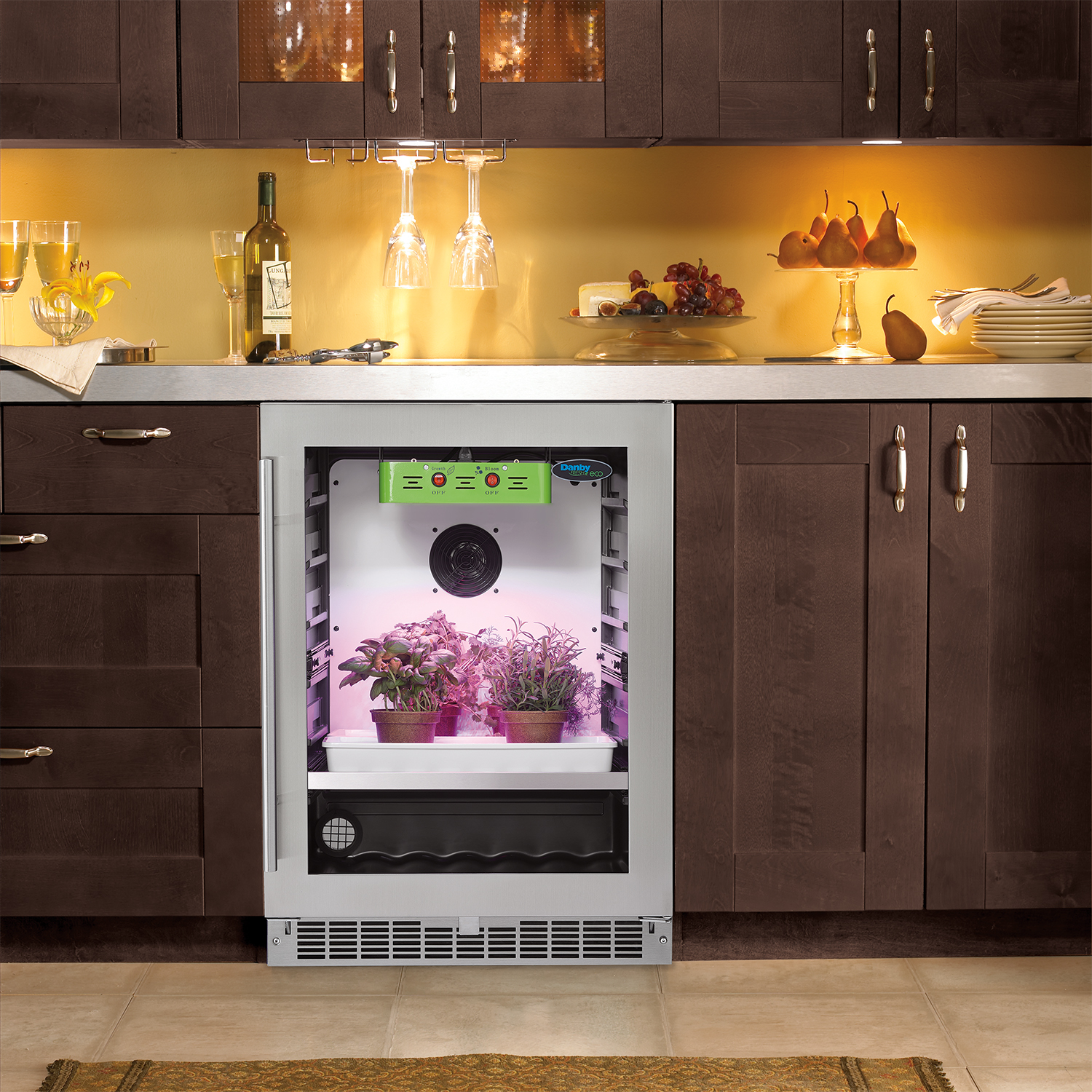 With our daily schedules on hold for the past few months we have found the need for new hobbies. Whether it was baking bread (banana bread was king of quarantine for the greater part of COVID) or people trying out to see if they have a green thumb (plants and gardening). The weather is getting warmer and if you're lucky you may have enough outdoor space to start a garden. If you're tight on outside gardening space look into the Danby Herb Grower, which isn't just for herbs, you can grow vegetables and fruits as well.
In some parts of the country, consumers are running supermarket shelves dry. COVID-19 proved that our food supply is limited. Starting a home gardening project is a great way to get home grown veggies and save money. You can store your homegrown produce with a long-term food preservation technique like flash freezing or canning.
If you're planning a home improvement project, you will want to also upgrade your yard to spend time outside with your family and friends. Consider adding a barbecue grill, outdoor furniture, lawn games, a patio heater, fire pit, or even a home garden. Models shown Danby Fresh Eco 24″ Home Herb Grower and Silhouette Outdoor Keg Cooler
5. Investing in High Quality Home Appliances Built to Last
Where and what you spend your money on has been important prior to COVID-19 and will continue to be as the world opens back up. All of your large appliances serve critical roles in your home. They're made to make our lives easier.
Quality and longevity will be the foundation for purchase decisions, this is why warranties on your appliances are vital. Over the years, most appliances will require maintenance. If your appliance needs service, it pays to have a warranty in place. Investing in a warranty at the time of sale will give you peace of mind, and will save you hundreds of dollars. Model shown is Silhouette 24″ Dual Zone Wine Cellar
Inspiration for this blog provided by Jess P of AJ Madison. Original content and the full list of tips can be found on their blog.
To find a retailer near you that sells MicroFridge and Danby appliances click here
Not yet following us on social media? Check us out on Facebook, LinkedIn, Twitter, and Instagram